Everybody loves a bright white smile, and there are a variety of products and procedures available to help you improve the look of yours. Many people are satisfied with the sparkle they get from brushing twice daily with a fluoride-containing toothpaste, cleaning between their teeth once a day and the regular cleanings at your dentist's office. If you decide you would like to go beyond this to make your smile look brighter, you should investigate all of your options.
You can take several approaches to whiten your smile: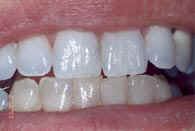 Above is an example of tooth whitening where only the upper teeth were bleached. Typical results of tooth whitening done in our office.

Bleaching is effective for dealing with stains caused by food and age. The process involves whitening the teeth by exposing them to a bleaching solution.

We achieve fantastic results with our whitening process. Not only is the procedure safe, it is extremely effective.

Talk to Your Dentist
You may want to start by speaking with your dentist. He or she can tell you whether whitening procedures would be effective for you. Whiteners may not correct all types of discoloration. For example:
yellowish hued teeth will probably bleach well
brownish-colored teeth may bleach less well, and
grayish-hued teeth may not bleach well at all.
Likewise, bleaching may not enhance your smile if you have had bonding or tooth-colored fillings placed in your front teeth. The whitener will not effect the color of these materials, and they will stand out in your newly whitened smile. In these cases, you may want to investigate other options, like porcelain veneers or dental bonding.
You also may want to speak with your dentist should any side effects become bothersome. For example, teeth can become sensitive during the period when you are using the bleaching solution. In many cases, this sensitivity is temporary and should lessen once the treatment is finished. Some people also experience soft tissue irritation—either from a tray that doesn't fit properly or from solution that may come in contact with the tissues. If you have concerns about such side effects, you may want to discuss them with your dentist.
We have two different methods of whitening your teeth:
In-office whitening
is a way to jump start the whitening procedure. By using a strong concentration of the whitening gel, the teeth get bleached quickly.
Home whitening
is used to complete the bleaching procedure and keep your teeth looking white for years.
Before Bleaching

Before Whitening, the teeth appear dark, and discolored. The shade tab shows the original color of the teeth.
After Bleaching

After approximately 7 days of home whitening, a dramatic difference can be seen in the teeth. Note the change in color by comparing the teeth to the shade tab.
Before

After


This is an example of some teeth that were stained due to ageing.
In-office whitening
The quickest way to whiten your teeth
"in-office" method where a strong bleaching agent is placed over the isolated teeth and a special light is used to assist the bleaching material lighten the teeth.
The procedure outlined below takes about 45 minutes to 1 hour to complete and whitens your teeth up to 7 shades lighter.
This method is generally more controlled and probably better for people who have tetracycline stains or streaks on their teeth.
The advantage of in-office treatment is that bleaching trays do not need to be worn for an extensive period to obtain whiter teeth. In fact when you leave our office you will have significantly whiter teeth.
The disadvantage of the in-office whitening treatment is the inability to control the amount of whiteness. Also once you have your teeth whitened, the inability to touch up and maintain white teeth is more difficult.
Figure One

The bleaching gel is mixed together and applied to the teeth.
Figure Two

The gel is activated with the bleaching light and allowed to remain on the teeth for 10 minutes.
Figure Three



After the gel is suctioned from the teeth, a noticeable
improvement can be seen in the color of the teeth.

Figure Four



These particular teeth were stained by tetracycline
and are the teeth shown in figures one, two and, three.
The most common methods used are the
The "home" techniques involve making trays which fit into the mouth and these are then filled with bleaching materials. When worn for a few hours a day, noticeable results are seen generally within a few days to a couple weeks.
Home whitening
A predictable way to keep teeth whiter
At home whitening is an ideal way to make sure that your teeth stay white after you have beached them. Used either by itself or in conjunction with in-office bleaching, it is a simple and inexpensive method to bleach your teeth.
Custom made trays made in our office especially for your teeth are filled with the bleaching gel. The trays are worn for up to two hours a day for 7 to 10 days with the bleaching gel inside.

Loading The Tray


By keeping the bleaching gel in contact with your teeth for the prescribed period of time, your teeth get whiter.
Another advantage of at-home whitening is that twice a year you can do a touch up treatment with your trays and the extra bleach our office supplies for you. That way you can maintain your white teeth forever.
Although the time required for the treatment is longer than in-office whitening, the results are usually far superior. Because of this at our office we combine the two treatments. In-office whitening for the fastest results and at-home whitening to maintain your teeth.
Bleaching solutions. Many of these products contain peroxide(s), which actually bleach the surfaces of the teeth. These products typically rely on 10 percent carbamide peroxide (which is equivalent to 3 percent hydrogen peroxide). In the last decade, carbamide peroxide has been demonstrated as a safe and effective whitening agent when used as directed.
Peroxide-containing whiteners typically come in a gel and are placed in a mouthguard, which you wear for about two hours a day over about two weeks.
Results vary from individual to individual and it is probably best to check with your dentist to help decide which method works best for you. Some of the factors involved include the intensity of the stains, whether or not you have fillings or crowns on your front teeth as well as what may have caused the stains.
---
Bleaching of the teeth is a very popular procedure that is being requested
by a large number of our patients.The most cost effective approach is with
the use of the "take home" bleaching mouthpieces.The before and after images
shown below. The results are very evident and common with all of our patients. I have been very careful to correctly reproduce the color accurately in both images.
| | |
| --- | --- |
| Before | After |
Results such as these are very common with our patients.
Most often, our patients feel more self-confident after completion of the treatment.

Toothpastes. There are a number of toothpastes currently available that rely on chemical or polishing agents to remove surface stains from the surface of the teeth. Many of these types of products will be effective while you are using them to remove stains.